Tennis
NYOG offical website
2014-03-04-10:30
I. Time & Venue
   The Tennis events of Second Youth Olympic Games will be held in the China Tennis Institute from 17 to 24 August, 2014.
II. Events
   Five events including a men's single event, a women's single event, a men's double event, a women's double event and a mixed double event.
III. Number of Athletes
   64 athletes including 32 males and 32 females
IV. Medals
  Athletes and teams that finish in the top three places in each event will be awarded gold, silver and bronze medals respectively.

Sport Explanatory Brochures: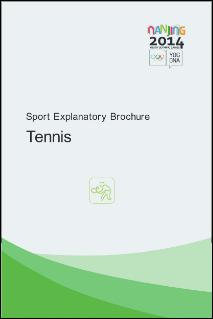 Videos